Saving Souls
Outreach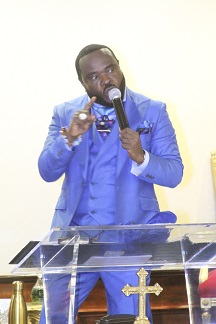 How does it work?  Recognize that you are a sinner and that you have sinned.  Romans 3:23 says "for all have sinned and fallen short of the Glory of God."

Realize that sin seperated you from God.  Isaiah 59:2 says "but your iniquities have seperated you from your God; and your sins have hidden His face from you so that He will not hear."

Believe and rejoice that God has the answer for your sins, Jesus Christ, who died for your sins.  He was buried and raised on the third day. John 3:16 says "that God so loved the world that He gave His only begotten son that whosoever believes in Him shall have everlasting life."

Receive Jesus Christ, God's Answer to salvation.  Receive Him as Lord by admitting that you are a sinner and:
REPENT, Acts 3:19 says "Repent therefore and be converted, that your sins may be blotted out, so come from the presence of the Lord."

BELIEVE in Christ, Acts 16:31 says, "so they said believe the Lord Jesus Christ and you will be saved, ..."

CONFESS JESUS CHRIST  AS LORD, Romans 10:9 says that "if you confess with your mouth the Lord Jesus and believe in your heart that God has raised Him from the dead, you will be saved."

NOW, SAY THIS PRAYER:
"LORD JESUS, I KNOW THAT I  WAS A SINNER.  I HAVE NOW RECEIVED YOU INTO MY LIFE AS MY LORD AND SAVIOR.

I AM NOW FREE FROM SIN AND BONDAGE AND I RECEIVE YOUR LOVE, FORGIVENESS,   AND THE GIFT OF ETERNAL LIFE IN YOU, JESUS CHRIST, AMEN."

Praise the Lord, Halleleujah!!

CONGRATULATIONS!
CONGRATULATION!!
CONGRATULATIONS!!!
YOU ARE NOW SAVED!!!!

WHAT STEPS TO TAKE NOW THAT YOU ARE SAVED!
Join a local church as a faithful member.  Acts  2:47 says "praising God and having favor with all the people.  And the Lord added to the church daily those who were being saved..." AND Hebrews 10:25 says "Not forsaking the assembling of ourselves together ......"

Get into the word of God daily.  Colossians 3:16 says "let all the word of Christ dwell in you richly in all wisdom..."

Tell others about your decision.  Romans 1:16 says for I am not ashamed of the Gospel of Christ, for it is the power of God to salvation for everyone who believes...."

Revelations 12:10-11 says then I heard a loud voice saying in heaven, now salvation, and strength, and the kingdom of our God, and the power of His Christ have come, for the accuser of our brethren, who accused them before our God day and night, has been cast down,  and they overcame him by the blood of the Lamb and by the word of their testimony, ........"